Features and Benefits 2 of 6
| | |
| --- | --- |
| Effortless Wire Links | |
Using wire links in Electra is really effortless. Drop them, pair them, done.
Wire links automatically shows the wire name and location of the target link it is paired to. If you connect a wire to a link, the wire automatically detects it's wire name. If you change the source wire name, the changes gets propagated on all wires and links, even over multiple pages.
Benefits
:
Unprecedented electrical design speed, far less manual errors, cleaner and faster electrical drawings.
| | | |
| --- | --- | --- |
| | | How to use Wire Links |
| | |
| --- | --- |
| Real Time Cross Reference and Locations | |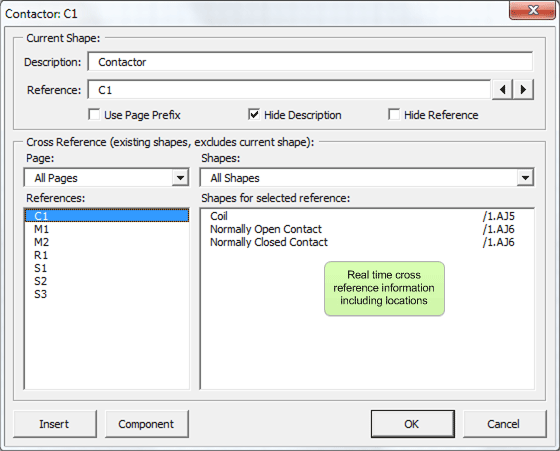 Electra comes with sorted, real time cross reference information to help you produce error free electrical schematic diagrams. Know exactly how many contacts you have assigned to a relay and where you have placed them, just by right clicking on a symbol. Find out all about wire names and it's location by right clicking on a wire.
Benefits
: Information is power. Easily produce highly detailed, accurate drawings quickly. Accurate drawings enables smooth communications with panel fabricators, customers and on-site engineers, which can lead to substantial time and money savings.
| | | |
| --- | --- | --- |
| Awesome AutoLocation Shape | Pro only. | |
Drop an AutoLocation shape, right click, select a reference and you're done. Instant, automatic, in-drawing cross reference at your finger tips.
AutoLocation shapes automatically monitors all symbols (for the selected reference) that you place on your electrical CAD drawing, and automatically displays symbol types together with it's location.
When you delete a symbol, the AutoLocation shape automatically deletes it. When you move a symbol to a new location, the new location gets automatically updated too.
Benefits: Drastic increase in productivity, cleaner, faster and better documentation for your electrical schematic drawings.